What are the factors you consider when planning your career?
Do you want to travel around the country while serving other people, or are you looking to get a better rate with housing and health insurance? Maybe you want to have a flexible schedule to make more time for your hobbies, or perhaps you just want a constant change in scenery and meet new people to prevent burnout?
If you'd love to enjoy all of these benefits and more, you should consider a career in travel nursing.
Read on to learn more about this opportunity and explore the complete steps on how to successfully become a travel nurse.
What is a Travel Nurse?
A travel nurse is a registered nurse (RN) who works through staffing agencies to fill temporary nursing positions in hospitals, clinics, and other healthcare facilities across the United States and overseas.
There is currently a massive nursing shortage worldwide mainly due to the COVID-19 pandemic, the aging population, and nurses hitting retirement age. To mitigate the situation, healthcare organizations are looking for travel nurses to temporarily take nursing positions in critical areas.
The travel nurse industry has been in existence since the 1970s and is recently seen to be steadily growing. If you're a student or a professional who wants to change career paths, a rewarding and fulfilling career as a travel nurse may be for you.
How to Become a Travel Nurse
1. Earn an ASN/ADN or a BSN degree
You have to be a registered nurse to qualify to work as a travel nurse.
The first step is to get a formal education by earning your Bachelor of Science in Nursing (BSN) or an Associate Degree in Nursing (ADN). If you already have a bachelor's degree in another field but you want to become a travel nurse, you may get an Accelerated Nursing Program degree.
2. Take the NCLEX-RN
Once you complete the coursework for your degree, you will be qualified to take the National Council Licensure Exam for RNs (NCLEX-RN) to become a registered nurse.
When you have obtained your license, you can legally practice nursing in the US.
3. Obtain work experience
Once you have the education and license to practice, the next step is to find a job to get nursing clinical experience. Fortunately, the demand for nurses is high which gives nurses a wide range of career opportunities in different environments and specializations.
4. Choose a specialty or obtain additional training
Travel nurses have to be certified in Basic Life Support (BLS) and Advanced Cardiac Life Support (ACLS) so this is something that you are required to take.
As you gain exposure to different nursing roles, you might want to specialize. This requires additional certifications such as neonatal, surgical, clinical, or critical care nursing, to name a few.
Earning additional certifications and entering a nursing specialty leads to better job opportunities as a travel nurse. Hospitals are always looking for nurses with experience and advanced training and are willing to pay them more.
5. Get your compact nursing license
As a travel nurse, you need to make your nursing license earned in your home state valid in other states.
To do this, you'll need to get a multistate license through the Nursing Licensure Compact (NLC). However, some states are not part of NLC and have their own set of requirements so you'll have to apply for licensure in those states.
6. Apply to a travel nurse staffing agency
Travel nurse staffing agencies will help you connect with different hospitals and healthcare facilities to fill open short-term positions in your preferred destinations.
Search for travel a nursing agency with good reviews or reputation, an extensive list of nationwide or international travel nurse jobs, and that offers comprehensive pay and benefits packages. You can find them in professional networking groups, review sites, and referrals.
7. Start your career as a travel nurse
The nurse staffing agency will help you find a placement and work with you in completing all the necessary paperwork in the application and hiring process.
When successfully hired, you'll need to secure your accommodation. Some agencies provide housing, while others give housing stipends. The agency-provided housing options may not be something that you like, so you'll have to find your housing and get a housing stipend instead. Whichever the case, do your own research to find what's best for you.
Start Your Career Today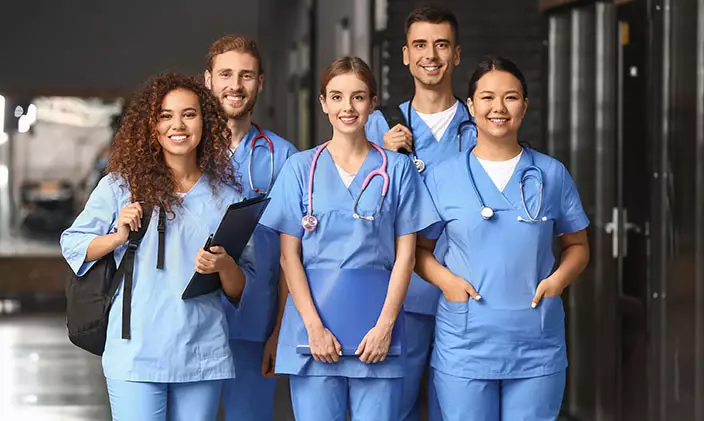 All you need to do now is to hit the road to your nursing work destination, meet your new colleagues, explore the things that the new place has to offer, and grow professionally as you are immersed in different facilities.